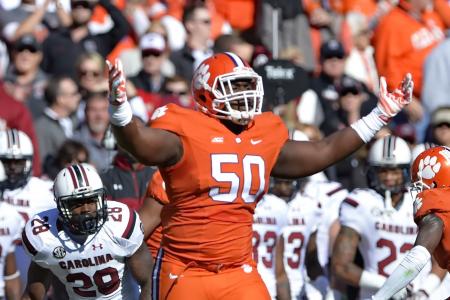 A fifth round pick in 2015, Clemson standout Grady Jarrett quickly made his presence felt on the Falcons defense, all while being limited to a backup role. He was projected by most analysts to be picked within the first three rounds, but he somehow landed right in Thomas Dimitroff's lap at pick 137. Jarrett was brought in specifically to provide Atlanta with a boost in run defense, and he did just that in his first year. He proved every team's draft boards wrong, finishing the season as the second-highest graded interior lineman of the entire rookie class. In fact, he finished last year as PFF's 31st highest graded defensive tackle in the league, despite only playing a total of 268 snaps.
This season Grady Jarrett could be in store for a breakout year, as Dan Quinn named him the starting nose tackle after his impressive rookie campaign. Jarrett excels at block shedding and has great strength at the point of attack which makes up for his below average height. Another one of his selling points is his relentless motor than can be seen on every snap he is on the field for. He does not stop going full speed until the whistle blows, further demonstrating why his work ethic is so highly praised. Being the starting nose tackle, he will primarily be asked to shut down the run and get to the ball carrier, and he has shown that ability as a starter consistently throughout this preseason.
In what was generally a terrible game for the Falcons, Grady Jarrett looked like a man among boys against the Miami Dolphins this week. He was throwing Miami's lineman left and right, showing off his power, speed, and technique on multiple occasions.
Jarrett has been playing so well this preseason that Dan Quinn is now considering making him a regular in nickel sets. He has flashed some ability to pressure the passer, and the coaching staff is always looking for guys who can be versatile, every-down players. This season has the potential to be a huge year for Grady Jarrett, and I wouldn't be surprised if he proves to be the Falcons best overall defensive lineman in 2016.
Comments
comments