The Atlanta Hawks have officially released their schedule for the 2022-23 season, which begins on Oct. 19 at State Farm Arena against the Houston Rockets.
The club is currently scheduled to appear in eight nationally televised games this season and 18 if you consider NBA TV national television — five on ESPN, three on TNT, and ten on NBA TV.
They start the season with an easy home stretch against the Rockets, Magic, and Hornets before embarking on a five-game road trip against the Pistons twice, Bucks, Raptors, and Knicks over eight days. The Orlando game wouldn't normally garner national recognition, but a recent beef between Dejounte Murray and Paolo Banchero will make it much more entertaining. Considering the Hawks will be working out the kinks after acquiring Murray, it's nice the schedule isn't against stiff competition.
There are several notable early-season games at State Farm Arena that fans should make an effort to go see — Pelicans (Nov. 5), Bucks (Nov. 7), 76ers (Nov. 10), Celtics (Nov. 16, ESPN), and Heat (Nov. 27).
The Hawks play a lot of away games early in December, then return home for a similar number of matchups in the latter half of the final month of the year. Notable December games include the Knicks (Dec. 7, ESPN), Nets (Dec. 9), Grizzlies (Dec. 12), Nets again at home (Dec. 28), and they finish 2022 against LeBron James and the Lakers (Dec. 30).
To start the new year, the Hawks will travel out west to face the Warriors, Kings, Lakers, and Clippers. As you've probably seen, the Hawks will host the Heat on Martin Luther King Jr. Day (Jan. 16), which will be on national television. Then they'll return back out west to finish up the month against the Blazers, Suns, Jazz, Nuggets, and Pelicans.
After that, the Hawks head back home, where the team will play seven of eight games at State Farm Arena, including against the Suns, Spurs, and Knicks — the final game before the All-Star break. To finish up the season, the Hawks will have four consecutive division road games against the Heat and Wizards twice.
Here is the full Hawks schedule for the 2022-23 season: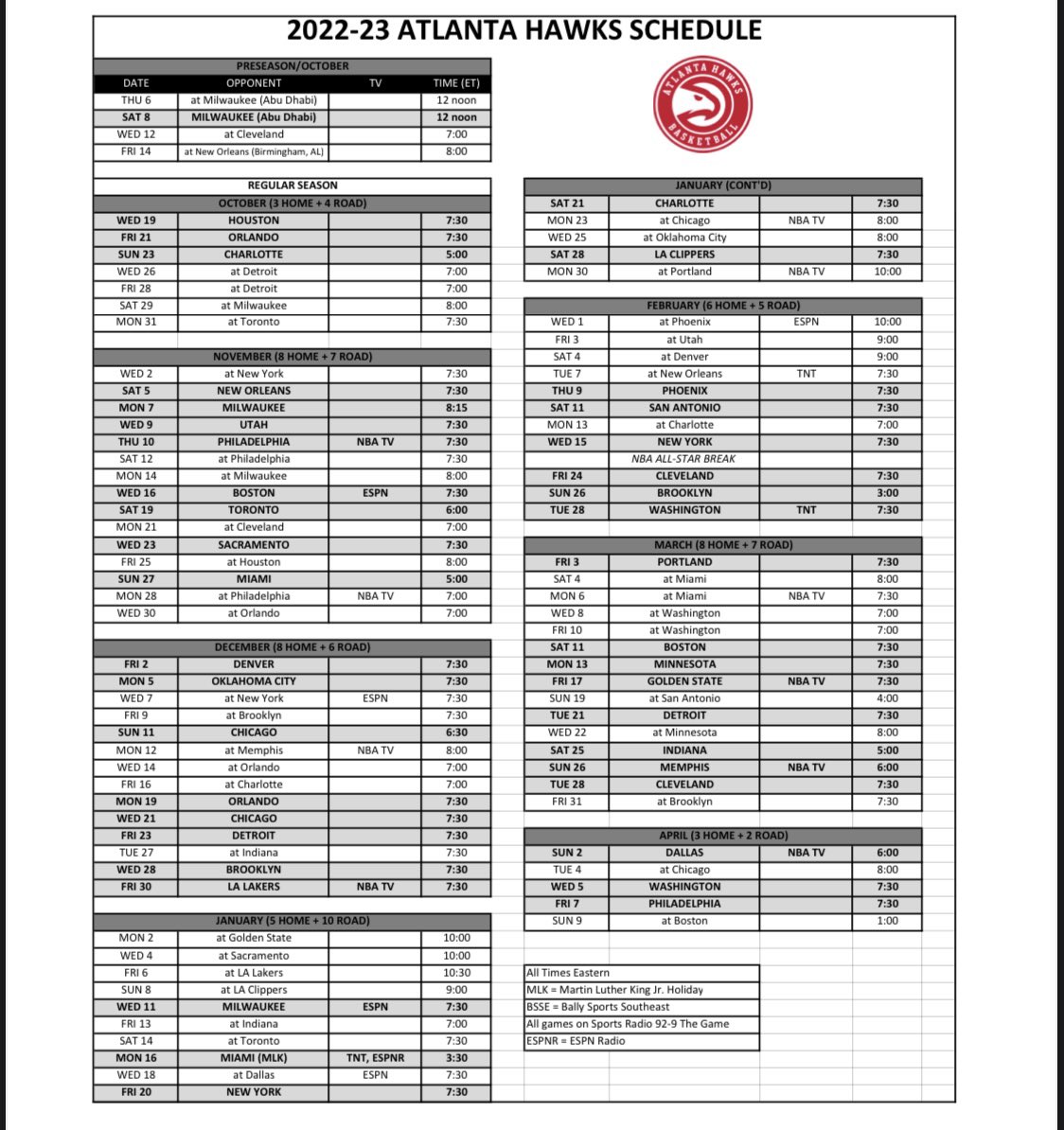 —
Photographer: Melissa Tamez/Icon Sportswire
Comments
comments