The Falcons have a multitude of issues that need addressing this offseason, and they should begin in the trenches. The offensive line's inability to protect Matt Ryan is obvious every week; they're easily a bottom-five group in the league in pass sets. The lack of separation and trust with his receiving core certainly has an effect on the pressure Ryan faces too, but the root of the problem is the offensive line.
The Falcons could use upgrading in both of those areas, but there is a facet of this team that performs worse than the offensive line regularly — the pass rush. Of course, rushing the passer isn't just on the front; they have to rely on the secondary as well. However, no defensive backs could hold up in coverage long enough for the Falcons pass rushers to get home.
Outside of quarterback, there aren't many positions that can affect games as much as a pass rusher. The Falcons have been so bad at getting after opposing quarterbacks that individual players have higher sack totals than the Falcons defense as a whole. Going into Week 18, Atlanta has recorded 17 sacks, lower than T.J. Watt (21.5) and Robert Quinn (18.5). 
If the Falcons don't sack Taysom Hill on Sunday, they'll match the franchise-low for sacks in a season. The 1982 Falcons hold that record, but they only played nine games. If Nick Bosa and Myles Garrett notch two sacks in their respective Week 18 matchups, four individual players will have matched or exceeded the Falcons team total.
It really is laughable, and people will still attempt to bring up arbitrary statistics that say the Falcons pass rush isn't that bad. Well, using ESPN's win rate and PFF's grades (which have their flaws), it is obvious how bad this group has been. Ben Baldwin posted the graphic below to Twitter. Notice any outliers?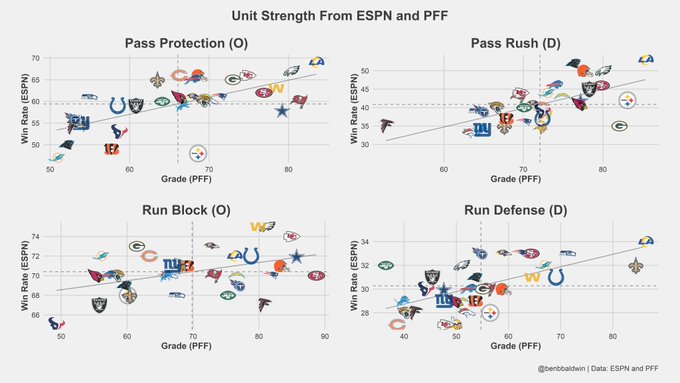 Comments
comments